I'll start this build with a preface which I know will drive Charlie bonkers for having to wait.
Meet Jumbo...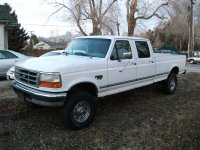 This is a day or so after I purchased the truck in Feb of 2010 for around $7000 green backs. With the pending arrival of kiddo #2 we needed a bigger truck to hold us all as the ol' 87 F250 (6.9l diesel may it RIP) wasn't going to cut it anymore (not to mention it was drinking its own oil at the rate of a quart every 350 or so miles). I have always thought that the weak link of Ford's OBS workhorses has been the transmission and I have dreamed of upgrading the transmission ever since I bought the 97 in 2010.
Not to give too much away here in the first installment... but the RTO 6610 transmission has now been in the truck for 2 years and just shy of 20000 miles.
Last edited: