Concerns noted... Here is the Volvo unit I got.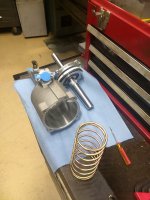 I had it taken apart to see how it worked as well as to get hydraulic and air piston diameter information. I called the local trucking yards, but all the units they had bolt to the bottom of the transmission. I didn't want to lose anymore ground clearance than I have to. Well let me know what you think of this one.. perhaps I'll just have to create my own servo slave now that I know how the things operate.
Edit: Just went back through the literature I downloaded while I was planning for the transmission swap. I see that Eaton offers an Easy Petal, but they only have it for 2 inch input shafts. I don't recall seeing it anywhere else for the 1.75 inch input shafts.
Last edited: