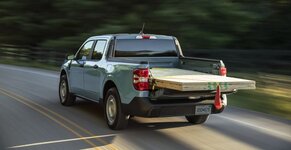 Is the Ford Maverick a Real Truck or Just a Car in Disguise?
There's no question that modern trucks are getting more "user-friendly" than ever. Whether you are behind the wheel of a Ford F-150 or a Honda Ridgeline, you get lots of tech, more creature comforts and better rideability than your daddy's truck. The question is, can a truck built on a car platform really be considered a truck? Or more pointedly, will buyers care? Let's take a look at the new Ford Maverick as an example.
Is Ford's Smallest Truck a Real Truck?​
Truck traditionalists will point to the unibody platform it's built on and shake their heads. These folks are often more interested in towing capacity, payload, off road capability, and torque numbers. They prefer backpacks over fanny packs, and their truck should be the hardest working tool in their arsenal.
Yes. The Ford Maverick looks every part of a truck compared to the likes of the Honda Ridgeline and the Hyundai Santa Cruz. This compact pick-up definitely shares the squared-off look of its bigger brother Ford Ranger and its big daddy F-150. However, the Ford Maverick is designed to give you that car-like feel that would make anyone comfortable behind the wheel.
Also, the
Ford Maverick
has (gasp) a standard hybrid powertrain. Of course, you'd appreciate that hybrid engine when it comes to long-term fuel costs. But can you really drive around in a compact, hybrid truck and call it a real pickup? It probably depends on who you ask.
More of a Truck than the Honda Ridgeline​
First of all, let's compare the Ford Maverick to other small/compact trucks in the market. You have what is probably the epitome of "car like" trucks, the Honda Ridgeline. Of course, there are lots of truck fans who would never be caught dead in a Ridgeline. It's always been the target of jokes from truck traditionalists due to its FWD drivetrain, unibody frame, not-so rugged looking design, and the fact that it is offered by a car company that has never built a truck before.
With that said, the Ridgeline has found its niche with those who appreciate the functionality of a pickup with its car-like ride and welcoming interior. If you were considering a CR-V but need a pickup bed more than you do SUV cargo space, it's a solid option. Some would even argue that it likely helped pave the way for the new Maverick.
Honda recently announced that the only drivetrain option available will now be AWD, as of 2021. It appears Ford is banking on potential Ridgeline buyers who want something a little more truck-like than what Honda is offering.
And certainly more than the Hyundai Santa Cruz​
If you look at the Maverick and the Ridgeline side by side, it would be hard to argue that the Maverick looks more like a traditional pickup. Now, if you compare the Maverick to the
Hyundai Santa Cruz
, you get an even more distinct departure in appearance. The Santa Cruz has more of a Subaru Baja feel to it, or, if you're old enough to remember the short lived Dodge Rampage in the early eighties, that could easily be in the Santa Cruz's lineage. You'd probably hear some snickering when driving up to a jobsite in a Santa Cruz.
The Maverick, on the other hand, looks capable enough to handle some light work such as smaller cargo deliveries - think auto parts retailers and other businesses which have relied heavily upon the older generation Ford Ranger and Toyota Tacoma pickups for their small fleets. The Maverick could easily fill that void better than the other compact trucks it competes with.
The bottom line is that the Ford Maverick is perhaps the most "truck-like" entry in the compact pickup category. Sure, that is not saying a lot. However, it does at least have the look to fit in. After all, it has to be, given the fact that it has a Ford badge on it.
Is the Ford Maverick Intended to be a Successor to the Ford Ranchero? (Hint: Nope)​
Another way to access the Ford Maverick's place in truck culture is to look at its perceived predecessors. In particular, let's take a look at how the Ford Maverick stands up against the Ford Ranchero.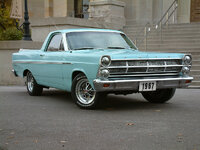 (photo by Bill Wrigley)
You may remember the Ranchero as Ford's coupe utility vehicle from 1957 to 1979 if you are old enough. When it debuted in the late fifties, the Ranchero essentially looked like a traditional 1960s Ford coupe/sedan with a pick-up bed in the back. You couldn't get any more "car-like" than that. Whereas the new compact trucks today are built on small SUV and crossover platforms, the Ranchero was based on Ford's mid/full size sedan platform. Later iterations of the Ford Ranchero didn't look any more truck-like.
Though the new Maverick was meant to appeal to a similar subset of customers, like the Ranchero, it appears the plan was to approach it from the opposite end of the spectrum. Instead of chopping off the back half of a sedan body and adding a pickup bed, Ford took a small truck body and blended it with a unibody frame, the same one used by the Bronco Sport and Escape.
About that hybrid powertrain​
The fact is that the Ford Maverick is about as close to a "truck" that you are going to get when you are looking at a pickup in a small or compact size. Now, let's talk about the powertrain. Oh yes, that "hybrid" powertrain.
Here's the thing. A hybrid powertrain is not something that feels natural in a truck. Traditionalists would prefer to have a V-8, either gasoline or diesel-powered, under the hood. However, let's consider the fact that Ford has sold tens of millions of F-150 trucks with an EcoBoost engine in recent years. Fuel efficiency is important to a wider range of buyers these days with the rising price of fuel.
In a small truck, you don't need an overwhelming amount of power. And frankly, that's probably not what someone in that market wants or needs. When you drive a small or compact vehicle, you tend to prefer great fuel mileage over speed and power. In that respect, the Ford Maverick delivers with its 2.5-liter hybrid engine that puts out 191 horsepower and offers up to 42 miles per gallon on the highway. If you are doing some long hauls in a Maverick, you would certainly appreciate that.
Yes, the Ford Maverick still offers a "real" gas powertrain (But it's still an EcoBoost)​
Now, if you are completely "hybrid-phobic," the Ford Maverick does offer an available 2.0-liter EcoBoost gas engine that gives you up to 250 horsepower and up to 30 miles per gallon on the highway. 250 horsepower is ample for a compact truck and 30 miles per gallon on the highway is not bad either.
Its car-like interior is not uncommon in the truck world these days​
Finally, let's talk about the final unique aspects of the Ford Maverick - its car-like interior and ride quality. Frankly, those who question the Ford Mavericks truck cred need to take a look at the current mid-size and full-size pick-up models. Trucks, in general, are getting more user-friendly when it comes to their interior.
If you look beyond the tradesman model of the F-150, you get some excellent interiors packed with amenities that you only used to find in premium-level vehicles. The Ford Maverick isn't trying to be a premium vehicle by any stretch of the imagination. However, the cabin is more welcoming than one would expect. That is not necessarily a bad thing.
Is a car-like ride quality really an issue?​
When it comes to ride quality, the Ford Maverick is going to be pretty welcoming due to its smaller size and the fact that it rides lower to the ground than other trucks. The front-drive, unibody platform is shared with the Ford Escape and the Front Bronco Sport. Though traditionalists will likely always prefer the body-on-frame designs, the masses demand a comfortable ride, and the unibody delivers in that regard.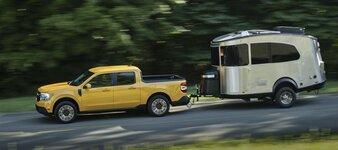 The Ford Maverick is about as real as a compact truck gets
The final verdict is that the Ford Maverick is not going to compete with the likes of the Ford Ranger, Ford F-150 or any other mid-size or full-size truck when it comes to pick-up truck cred. However, it doesn't have to. The Maverick is the most "truck-like" compact offering out there. And that may be enough for it to carve its own place in the truck world. We'll see if the FWD brings about the same heckling as we saw with the Ridgeline. Or, maybe traditionalists and roughnecks will cut Ford some slack due to its "tough" truck heritage. Only time will tell. We just hope to see an extended cab option become available to provide for a longer bed, and possibly a manual transmission.
Share Your Ford Maverick Here on FTF!​
Have you taken delivery of a Ford Maverick? Please share your new truck with us on FordTruckFanatics! Create a "truck profile" for it here:
https://www.fordtruckfanatics.com/truck-profiles/
We want to see how you use your Maverick and how you choose to modify it, as many truck owners tend to do. Share photos and specs and document your experience in your build thread.