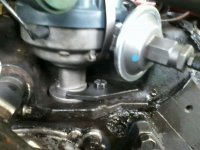 I replaced the timing chain and sprockets. Was needed, never been replaced. All lined up and good. Then started having another timing issue with a random low thump from exhaust. Also had serious trouble getting up hills (not right). First thoughts and response to that was that I may have put the sprockets on 180 off, on the exhaust stroke. But wanted to get some more opinions before taking it all off again. Seems like something is still off and or slipping (Not the chain or distributor, have verified that). Wondering if it is possible that cam could be worn and slipping occasionally? But more likely I put the sprockets on 180 off.
Good example of weirdness is yesterday running perfect! Started this morning, and timing totally off, had to reset distributor (Someone pulling my distributor out in the wee hours of the night?)...

Now this is really weird -->

About the above picture: The distributor, re-manufactured, has two blue dots, one on diaphragm, and one on cam gear. When harmonic balancer marks are aligned at TDC, and I align the two blue dots on the distributor when putting it in, it seem in time when running, but as shown in pic, turned all the way to right, and the distributor rotor is 180 off from where rotor should be pointing (towards cylinder eight).
And if asked, yes, all other external parts have been replaced and good that would interfere (plugs, wires, dist, egnit coil, etc, etc....)