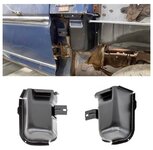 Anytime there's a new OE replacement part available for the classic trucks, it's good news. We love to see companies out there creating new sheet metal pieces that allow truck owners to restore (or just improve) their rusted Ford trucks. It helps keep these classics on the road for more people to enjoy in the future.
If you're a Ford dentside owner (73-79 F-series), you'll be happy to hear that Auto Metal Direct has a new Cowl Side Air Vent Panel available. This is a very common rust area where leaves and debris collect and hold water. Some owners end up having a shop salvage this piece, or custom make new ones for them. Made to fit just like OE, these new panels come complete with the fender bracket, which cuts down on the time spent on a custom replacement by a LOT.
If you're in need of some cowl side air vent panels for your dentside, go check out Auto Metal Direct.