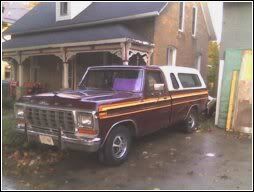 Hey All, im new on the site so im hoping i can do this, if not accept my appoligies and let me know

Due to family and lack of space i need to seel my 78 ford ranger explorer, F150..

. its all original, im the second owner (bought from my father 9 years ago), It has never been winter driven, I just fliped it to just over 100,000 Original Kilometers, it has the 351M, runs fine, needs a good tune up, i have only been able to drive it once last year. I took it for a spin today and well, Now id hate to sell it but room wise i need to....
Any ideas of what is a good price to ask? Id like to see it goto a good collector insted of some one that would just abuse it but i guess i have no choice hey... Kinda attached to it but i ned to sell....Dad would understand!

lol
Any help would be appreciated!
Thanks in advanced!
Rocky
Last edited: