I was very happy to be able to still buy factory OEM headlights for my 20 year old 150.
The original headlights were getting foggy. I tried reviving them with Meguairs Plastix, but wasn't happy with the results, and you can't do anything for the inside. Nothing beats having brand new!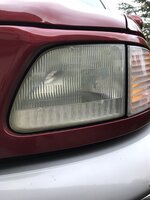 Original after trying to restore. Next photos are the brand new OEM's from Ford. Crystal clear!