Hey all. I just bought a 97 f350 CCLB. The only real issue with this truck is that the horn doesn't work. I pulled the corn switch off of the steering wheel and it seems to be functioning fine. This truck does not have an airbag nor does it have factory cruise (I think).
I am not sure if it has a true Clock spring in that it does not have cruise control. Any help would be appreciated.
The other question I have is that it looks like the previous owner installed an aftermarket cruise control switch on the steering column. This does not work either and I am having trouble figuring out where this even leads to you in the engine compartment.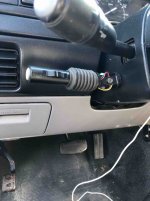 Sent from my iPhone using Tapatalk