So my boss has had this D500 since the early 2000s. It`s a retired Department of Natural Resources truck. It still has the log book in the state issued door pocket. He bought it from a guy down the road, puttied it up, then sprayed it all in TSC International white.
It`s pretty much been sitting in the weeds for as long as I`ve been at the mill (15 years in April). Two years ago this month we hired a guy to work on our semis who happened to be a Mopar guy and the boss thought it would be a good time to do something with it.
We drug it out of the snow bank, ordered a Summit Racing Mopar electronic ignition kit to replace the smoked factory points distributor, a carb kit, and fired it up. Then it was a new brake master cylinder, two clutch master cylinders (one failed immediately while trying to bleed the system), a clutch slave, and it stopped and shifted. On to the bodywork.
The boss was thinking we`d just putty it up and spray bomb it Rust-Oleum forest green. He messed up buy not telling the Mopar guy and the guy who likes to do stuff right and nice (me) his plan lol. We started by sanding off the TSC paint and it escaleted. Everytime he came in the shop it was torn down more lol.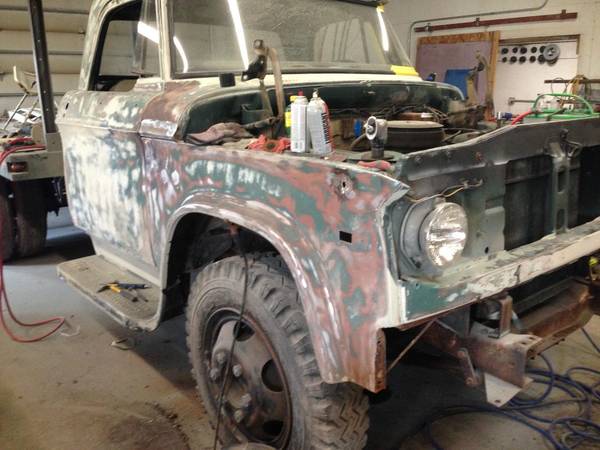 These trucks rust out on the cowl sides. I patched those. I also patched the top corners of the fenders and welded up the emblem holes since those were long gone and all I could find was a used pair on Ebay for $125 that I knew he would`nt buy.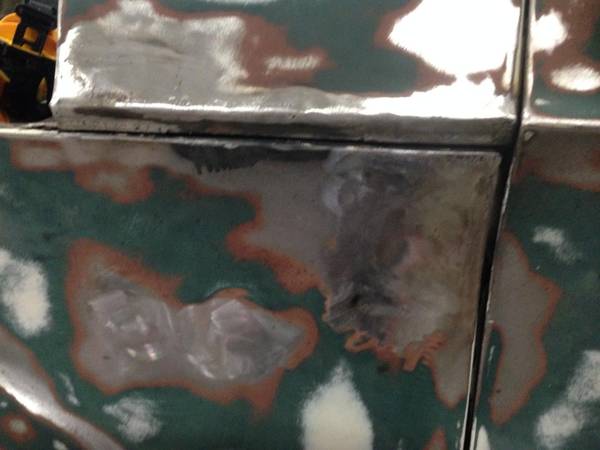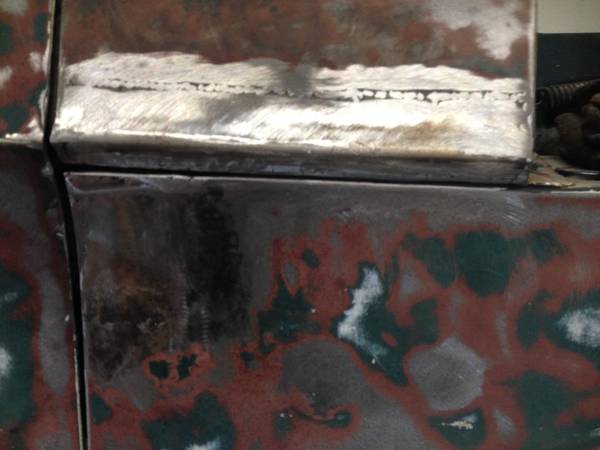 The piece under the grill was swiss cheese and got replaced, the lower rear corner of the passenger door got some new metal welded in, the leading edge of the hood was swiss cheese and got fixed, I made new rocker panels with a scratch and dent Harbor Freight 3 in 1, and we did some floor pan work. Oh. And the drivers side door. Ahh, the drivers side door. It had a crease that was damn near a tear, and the front and rear corners were rotten. bottom was also. I asked for a patch panel on that one. Didn`t get it though. Turns out there isn`t a whole lot available for 61-71 Dodge sweptline trucks. Pretty much a dude in his basement hand forming what I needed with a six week lead time. it was already the end of May and we planned on having it in the 4th of July parade.
There`s about 30 hours in that drivers side door lol. I cut it apart twice to get it where I wanted it. And I`m slow. Believe it or not there pretty much is`nt a flat piece of metal on these trucks.
The boss went to CarQuest and chose a color and we sprayed. unfourtunatly it was hotter than the hinges of hell in the shop and they gave us mid temp reducer, and my Mopar loving coworker hadn`t sprayed anything in a while, so the finish didn`t lay out that great. But he shines and looks good.
One of the rear wheel cylinders had also started leaking, so four new wheel cylinders on the back and all new brake lines got the brakes working. Again.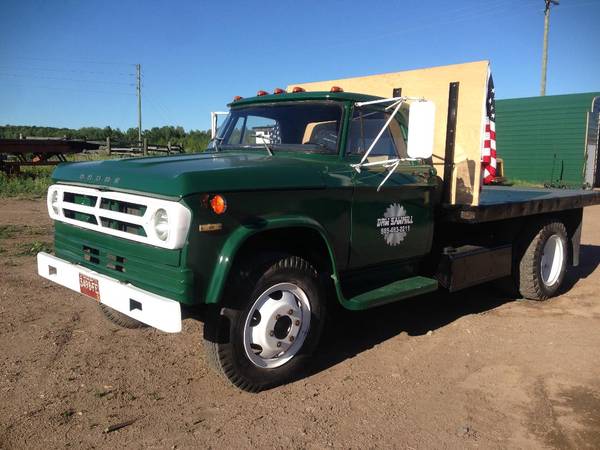 The day after the parade. You could still smell the fresh paint as it drove down the parade route lol. New cab lights, new LED turn signals on the fenders, new rear taillights, and new mirror glass. And windshield wiper arms. It had`nt had those for as long as he`d owned it lol. Oh. and still the old tires and wheels. It shit out the second clutch master cylinder also lol.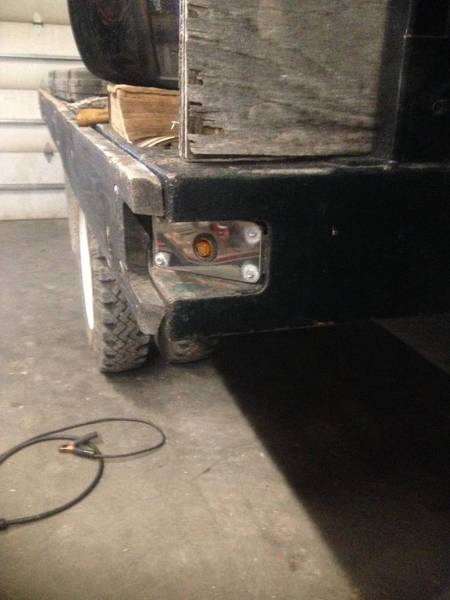 The corners of the bed where the original marker lights went was rotted so I donated some stainless I had laying around and we drilled it for LED dot lights.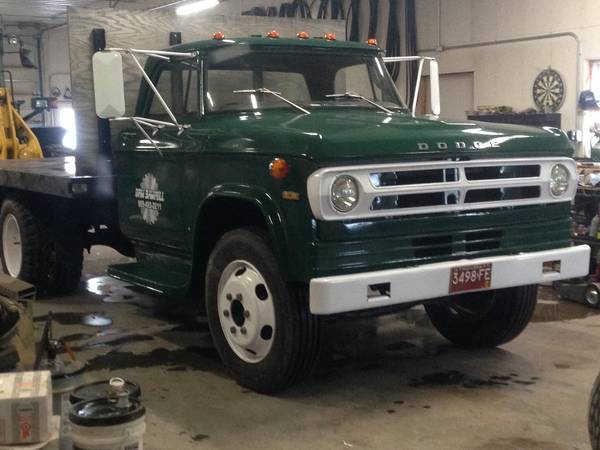 November of that year in the shop getting a coat of wax to get put away for the winter. In this pic you can see the new front wheels and tires. When we drug it up it had two old Firestone rh5 widow makers on it and four removeable bead ring wheels. I came across Wheelsnow.com and the boss ordered two new wheels with the correct Budd bolt pattern in a 22.5 and we put a pair of Michelin 255/80R22.5s on the front. The back got four new 8.25/20s.
Since it`s been back on the road it got a new carb to replace the rebuilt one that never worked right, new alternator and regulator, new rad hoses, front wheel cylinders, and various other knicknacks.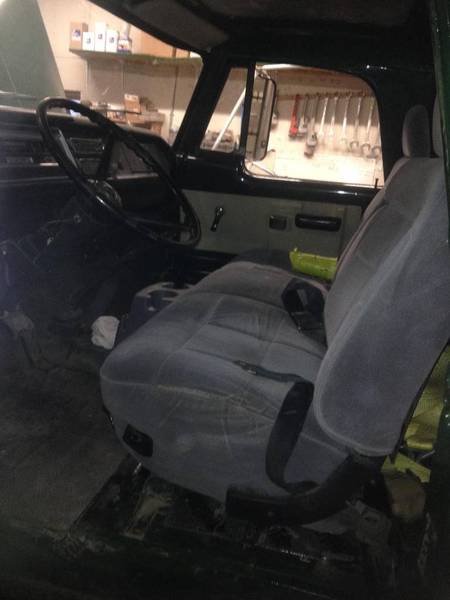 I took over slab hauling duties (that`s right, the old girl still works in the summer) because the boss has enough on his plate. And the seat was atrocious. So I donated a 94 Ford XLT seat. I also pulled out the in cab tank because we did`nt use it due too rust and it has a big saddle tank, and put a bunch of KillMat in it. We also threw a 24" glasspack on (chasing a power issue).
Well that about sums it up. I never intended to make a build thread, but I did take some pics with my phone. May as well post them up, right?
Oh, and it`s got a 318 under the hood with a four speed, a two speed rear end, and a 12' dump bed. 55,000 miles also.