» Log in
User Name:
Password:
Remember Me?
Not a member yet?
Register Now!
» Events & Happenings
Looking for an off-road park in your area? Check our listings here.
» FTF Mustang Club
FTF Mustang Club, check it out here
» Autogeek
» Advertise on FTF
Want to advertise on Ford Truck Fanatics, then just click here: advertise
» Home Welcome
Welcome to Ford Truck Fanatics! We put this site together in hopes that we could develop a top-notch Ford Truck resource. We welcome you to join our forums. We're active in Ford Truck discussion, tech discussion, and general conversation. We have a fantastic group of people that is second to none. We're hoping you'll join us by registering in our Ford Truck Forums.

Thanks for stopping by, and we hope to see you again soon!

Your FTF Team


» Truck of the Month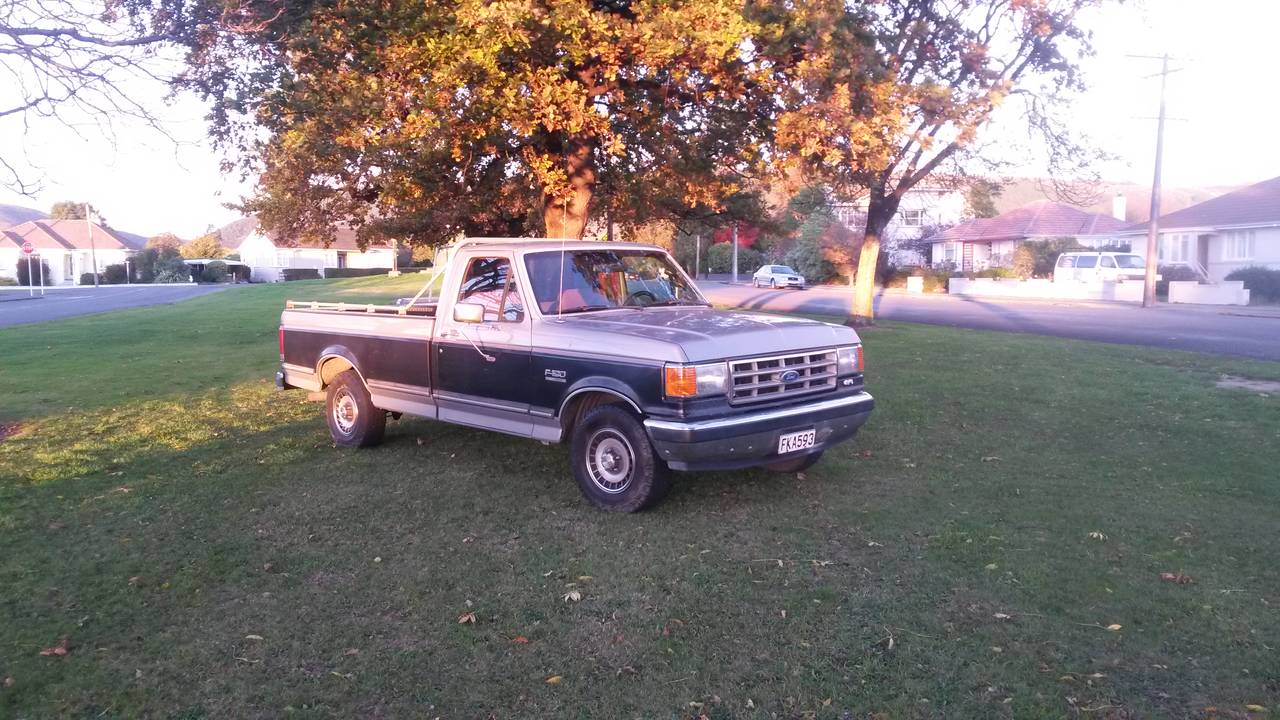 May 2015 Truck of the Month

The May 2015 TOTM belongs to kiwi f150

From Mark:




I've had this ex California 5.0 aod equipped truck for nearly 5 years now and traveled about 40000 miles in it - it's my daily driver and has fulfilled all sorts of duties from being my wife's wedding car to taking our daughters to their school balls and hauling firewood as well as carrying all sorts of engine's and parts for my repair workshop. I haven't had to do more than basic maintenance on it (140k miles now) apart from replacing the original factory windscreen due to a large rock last year I've added a hho kit to it which helped with the mileage slightly , myself and my wife have procrastinated for quite some time now over color scheme's so it is in need of a paint job as it still has mostly original paint. Lately i've been thinking of replacing it with a cab xtra gen 9 F150 to get the extra room to carry the kid's but since i have had such a good run out of this old girl i'm reluctant to let it go. Lastly buying this truck has been one of the most healthy choices i have ever made - with the fuel prices we pay here i've switched my "play money" from beer to gas.
Thanks to the Admin for selecting my truck for truck of the month.

» Truck of the Year 2014
[/CENTER]
[/CENTER]

July 2014 Truck of the Month

The July 2014 TOTM bel[CEongs to taxreliever

From Ken:

It took me and everyone on FTF to decide on purchasing this rig almost one year ago to this exact date on THE 4th of July weekend 2013. I had a set criteria for what I wanted for a rig and over the last 3+ years when one was located for sale, it was torn apart and scrutinized on FTF. Finally this 79 came up for sale and just about passed everyone's (on FTF) litmus tests and that's saying A LOT! So, I flew down to pick this baby up in South Carolina and her maiden voyage was a 1300 mile trip to Maine and it drove flawlessly even at highway speeds and above….it was very comfortable and had A/C to boot. The person who restored this rig bought it from the original owner who bought it from a SC dealership brand new in 1979 and used it on his farm as a work truck up until 2 years prior to me purchasing it. The guy had a frame off restoration, never drove it, and decided to put it up for sale and move on. Rebuilt 400 V8, Rebuilt Auto C6 tranny, Rebuilt NP205 transfer case 4WD, 37" tires, Power windows, after market gauges/tach and CD player, Diamond Plate tool box and bed rails.

» Truck of the Month 2015

January 2015 Truck of the Month

The January 2015 TOTM belongs to Fellro

From Roger:

I have always been partial the the 80-86 body style, might have to do with the first truck I really got to drive much being my old man's 84 F250 diesel Supercab that was bought to replace a 79 F250 Supercab.

I bought this 86 F250 in 2003. It had already had a hard working life before I got it, as it was used by a local co-op. Not sure what all they had hooked up to it, as it had wiring and a mount inside the cab that I have yet to identify, and have other harnesses that I haven't quite figured out what they went to. I bought it because I needed a truck that I could hook up my 40' horse trailer-converted flatbed to be able to haul cars and scrap. It also needed to be able to haul good loads in the box as well. I survived off of hauling scrap for several years after I bought the truck, and it hauled over 4000 pounds in the bed, and I scaled in with the 40' trailer one time (total weight) at 24,500 pounds. I have a turbo for it that sometime I need to get put on... I have done a few mods, as in an intake tube that comes from the grille to the air cleaner, larger personally designed and built exhaust, and for my comfort, I added a custom seat that was taken from a parts truck. This truck has never let me down, although it has frustrated me a few times. It has surprised me on some scrap hauls how it wouldn't get stuck, and the thing is just a tank when it comes to getting through the snow. It has been my pride and joy from when I got it even though it isn't a real pretty truck. I would almost be afraid to have a pretty truck, as I still need them to do the job they were bought for.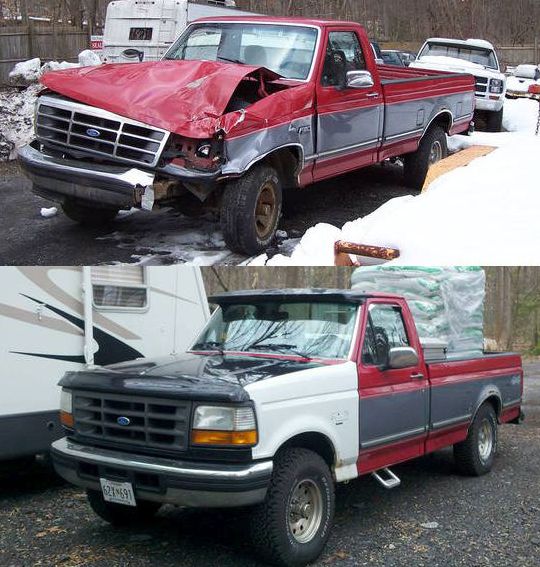 February 2015 Truck of the Month
[COLOR=blue]
The February 2015 TOTM belongs to dustybumpers

From Charlie:

This truck first met me in 2008, when I put a plow on it for a customer.
At that time, I also put new coils and leaf springs from a 94 F 250 4 x 2 diesel truck
As time, and lack of maintenance progressed, my son bought the plow, and the truck went to a new home.
In February 2010, a truck hit my 86 F 150 in the rear so I began the search for another truck to replace it with.
The young man that had bought the 94 got drunk, and ran the truck in a ditch and totaled it, I wound up buying it.
It's an XLT , shift on the fly, 5.0, with a 4R70W transmission, and a 3.55 Limited slip so I decided to keep it
After putting it back together, the transmission decided to stop working properly so I bought a replacement from Ford.
Never was happy with the way it shifted, so I put a Bauman electronic controls shift kit in it.
Man, that thing shifts great now!

Shortly after the transmission got finished, the engine got jealous. A rod started knocking so I pulled and rebuilt it.
I went with .040 over pistons, stock crank, F47TE roller cam from the larger trucks, and 1.7 roller tip pedestal mount rocker arms.
I also went with 96 Explorer GT-40 3 bar heads, so I can still pass emissions.
Truck has shorty headers, aftermarket cat, and Flowmaster Super 44 muffler with dual tail pipes and stainless steel tips.
The plenum is the stock 94 truck unit, but has been ported.

This truck sounds and runs awesome.
We use it strictly for flea market now, so it stays loaded all the time.
My wife loves when someone sees it squatting, and loaded, and tries to pass on the right, or at the light. She takes great pride in showing them the tail lights on a loaded truck.
[/color
» FTF Feature Video
Member M78's Truck
» Mission Statement

Mission Statement

Ford Truck Fanatics is a website dedicated to being a top-notch Ford Truck resource & community. Our Ford Truck forum houses some of the best troubleshooting and repair advice on the net. We work hard to help our members get the most out of our forums. Whether your question is about Ford Truck Parts or you seek answers from a certified Ford technician, Ford Truck Fanatics will be your favorite information source.

Your FTF Team
» Tower Advertisement

src="http://pagead2.googlesyndication.com/pagead/show_ads.js">

» Vote now
Vote For FTF
» Bass pro
» a1autotransport.com
» Parts Geek
» Visitor Map