I wouldn't do it. I'm leaning more towards what Chris said earlier, it's gen 9 with a few aesthetic differences. You don't buy a Boss 429 for the Mustang body, you buy it for the rarity of the drivetrain...and while the coin isn't apples to apples, I believe the philosophy is applicable.


Although...gen 9 Lightning body with 408 stroker does sound good for 3ish...but what are you gonna do for a tranny?


Also, factor in how long this project will take you and how happy your landlord will be while it sits.
__________________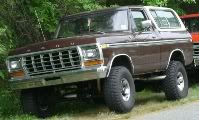 '77 250 400 Boggers (show)__'96 350 CC 460 SSR's (work)__'79 Bronco 400 35's (play)
Quote:
Inspired by Ian
We live in a society that keeps finding answers to problems people never knew they had.
I bow my head to Jesus, stand for my family, love only one woman, and am always proud of what I have.
Standing by my gun and Bible since 1986.
Ben