Hey everyone.
The wife just purchased a truck I have had my eye on for over 15 years, an 1991 F350 Crew Cab Dually "Custom" with an 8 ft bed. Buddy used it to tow his mid 10 sec '69 Mustang GT drag car for years...
It's a project as the 351W is pretty tired, needs bodywork, rear bumper, and whatnot. But it was a KILLER deal. Dang near gave it to us as he didn't use it, and he knows we wont trash or neglect it. The list of "need to do and buy" is already pretty long.
Anyways, to the questions:
1) Being as the EFI is so old, wouldn't there be better ecu options, and an easy EGR garbage(WOW is that a lot of egr pipes, tubes, hoses and valves for port efi!) delete modification? Will be hunting for a late model roller cam 351W to build mildly or buy, but retain the factory intake(and other efi parts). That is, unless there are better options to retain port efi without absurd custom work and expense.
2) as the wife needs to be able to cruise down the highway without winding the windsor to the moon with the 4.11 gears, what options are out there? I have been google'ing possibilities(cop car trans? aftermarket OD?) , but would love to hear other folks opinions and thoughts. Keeping the 351W, no big block or diesel swaps, must stay auto slushbox.
We will never be towing beyond maybe a car and open trailer, no more than 5-6,000 lbs or so, if EVER.
Thanks in advance!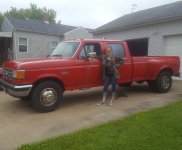 Last edited: