» Bass pro
» Autogeek
» Truck of the Month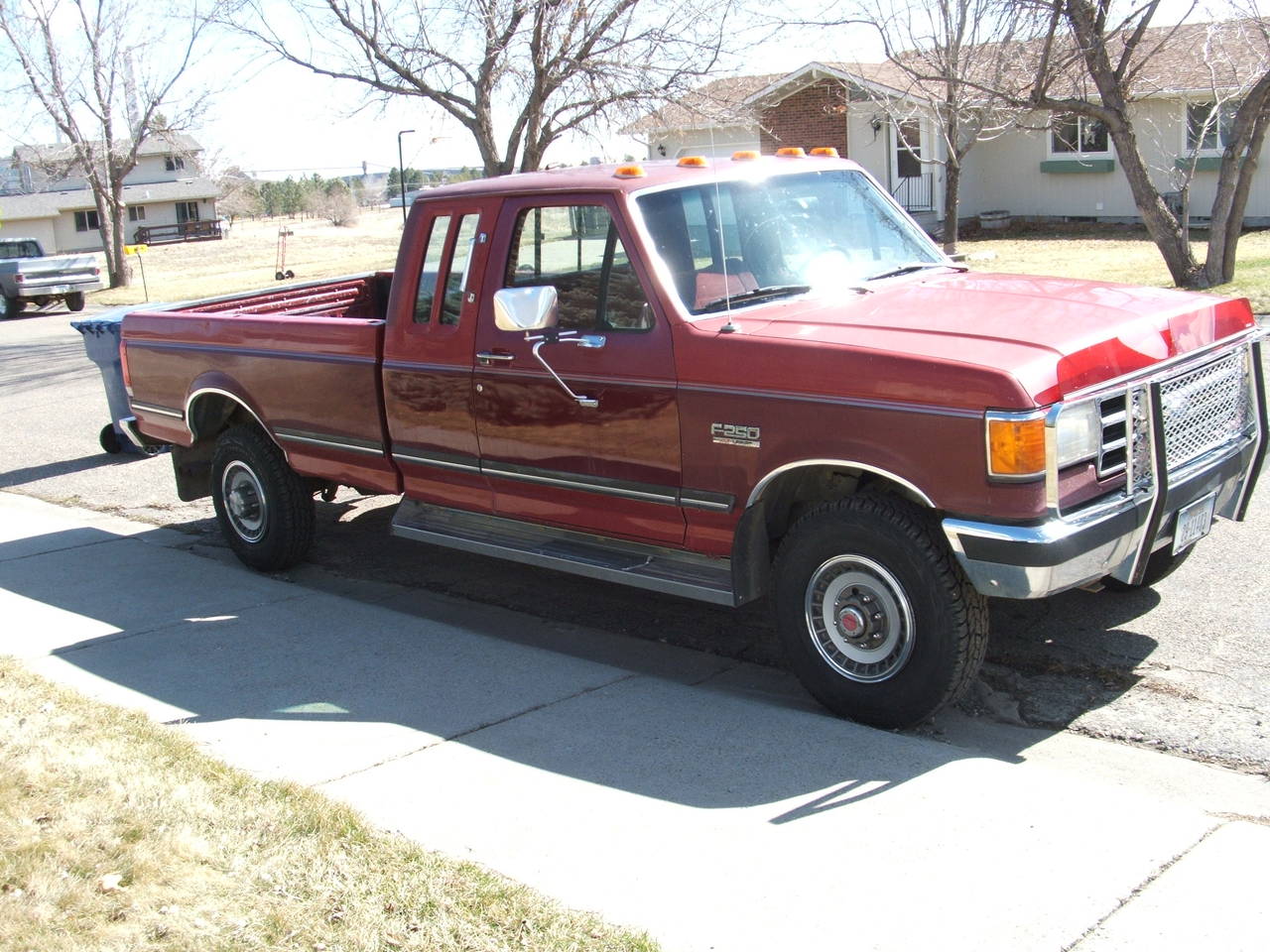 /


January 2017 Truck of the Month

The January 2017 TOTM belongs to
fatherdoug

From Doug:


I found this truck in the back lot of a Ford dealership about 6 years ago. It is a one-owner ranch truck that had been really taken care of. It has the 460 engine with a C-6 transmission. The only maintenance I have done is a new fuel switching valve, a TCV, a wheel cylinder, and a master cylinder.

The truck had 93,000 miles with regular maintenance. The only reason the truck was on the back lot was because of the gas mileage. The dealer thought he would have a hard time selling it...

I've put about 1,000 miles per year on the truck since I bought it, just using it to tow a camp trailer during the summer.



» Truck of the Month 2017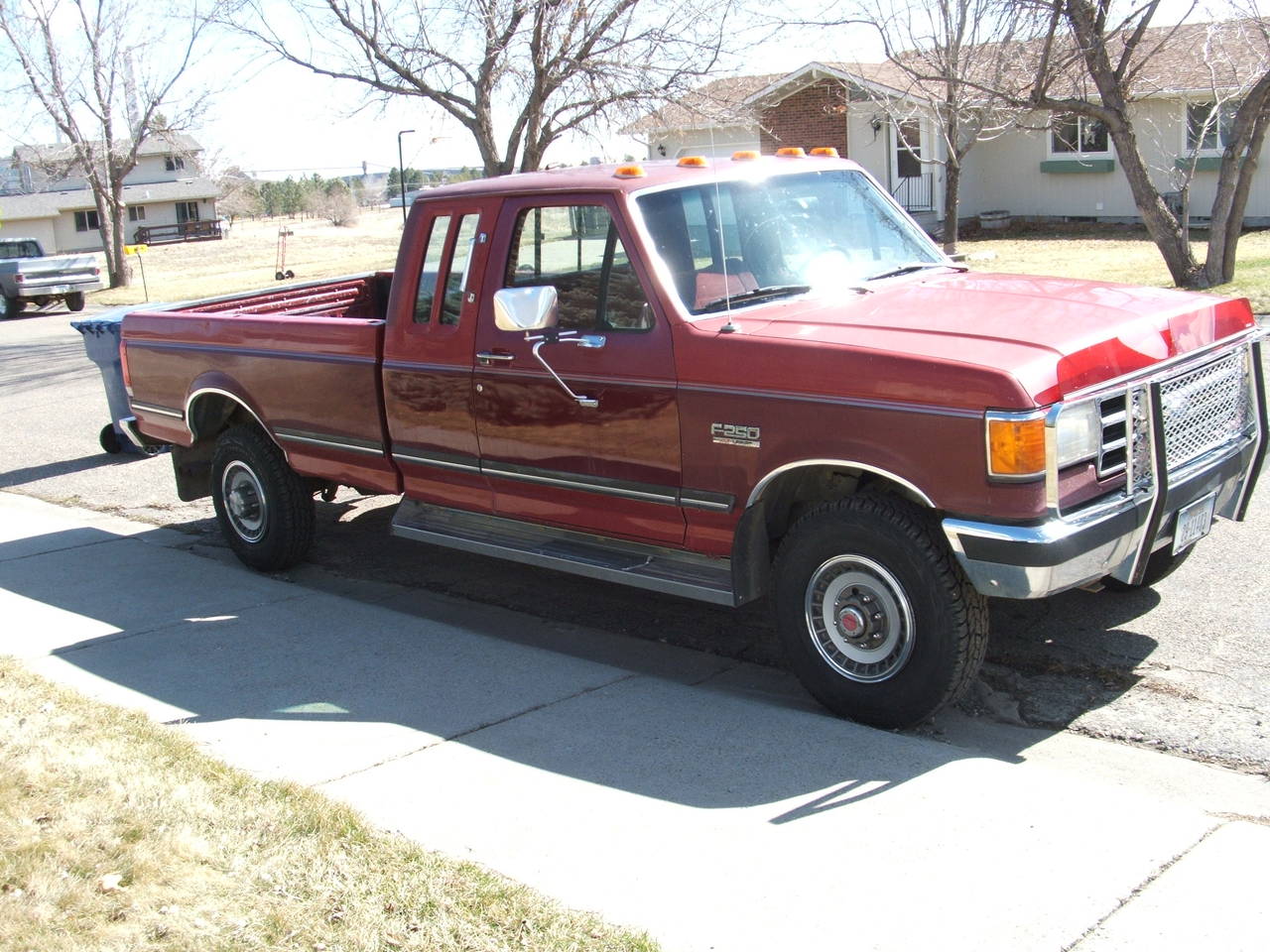 /


January 2017 Truck of the Month

The January 2017 TOTM belongs to
fatherdoug

From Doug:


I found this truck in the back lot of a Ford dealership about 6 years ago. It is a one-owner ranch truck that had been really taken care of. It has the 460 engine with a C-6 transmission. The only maintenance I have done is a new fuel switching valve, a TCV, a wheel cylinder, and a master cylinder.

The truck had 93,000 miles with regular maintenance. The only reason the truck was on the back lot was because of the gas mileage. The dealer thought he would have a hard time selling it...

I've put about 1,000 miles per year on the truck since I bought it, just using it to tow a camp trailer during the summer.



» Truck of the Month 2016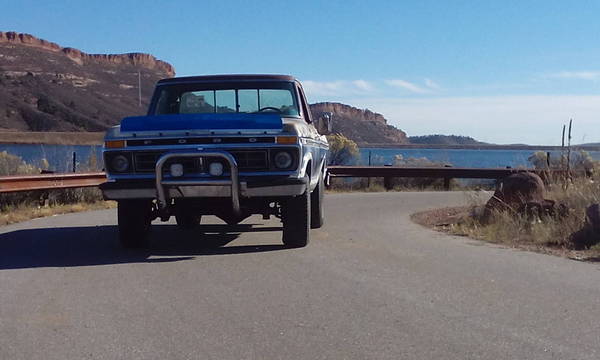 /


January 2016 Truck of the Month

The January 2016TOTM belongs to Lordurock

From Lordurock:


Truck: 1977 f-150 4x4 Short Bed
Engine: Mild Dove 429
Transmission: np435 with np205
Axles: Stock 9" and 44
Suspension: Stock

I bought this truck from a co worker as quick project, payed her the few pennies you wanted and hauled her home. I had hoped to rebuild the suspension, freshen the carburetor along with some other odds and ends, with an end result of a usable camping/ mountain rig that would go places my 2000 Jetta would not. Like all projects off this age i should have known they are never just a carb rebuild and some odds and ends.

This truck came with a 351m and np435/np205. After rebuilding the carb on the 351 she ran good for about 10 minutes before a light miss showed up. as the miss kept getting worse it turned out to be a rusted intake valve, that would not seal and got burned. With the motor being junk and me being in the truck less than 800 bucks i decided to follow my dream completing a resto mod on a classic. I found a low mileage D0ve 429 and heated it up a bit, and got it mated with the Np435. I will admit I have always been more of a car guy and never have been into fords but i love driving this truck and the big block is a blast.

As of right now the project keeps moving forward. Build goals are to fully rebuild the dana 44, rebuild the 9" with a truetrac and change the gearing into 3.73 area. I want to change the 435 for a Zf 5 speed and keep the np205. I want this truck to keep that old school muscle feel, so the truck will kept it stock suspension and get a set of cal tracks. with a nice metallic grey coat of paint and a set of d rings with 33's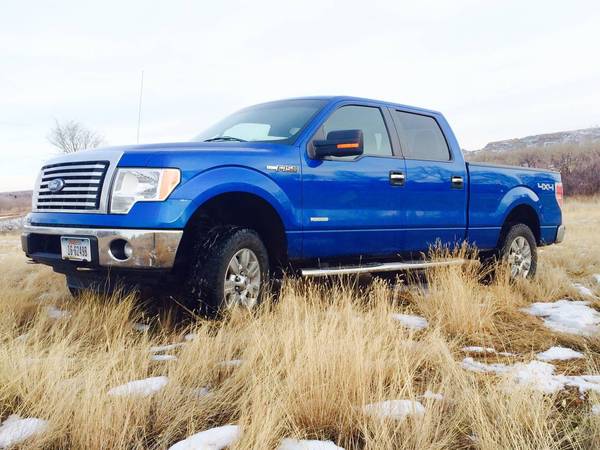 /


February 2016 Truck of the Month

The February 2016 TOTM belongs to SuperCab

From Frank:


Bought this truck a little over a month ago from Lithia Ford in Missoula, MT. It's a 2011 with the EcoBoost 3.5L. I'd been driving GMs for nearly 5 years and the more searching I did the more sure I was that I was finally going to buy a Ford again. I couldn't be happier with it! Thanks to all the forum members that helped steer me back to a blue oval!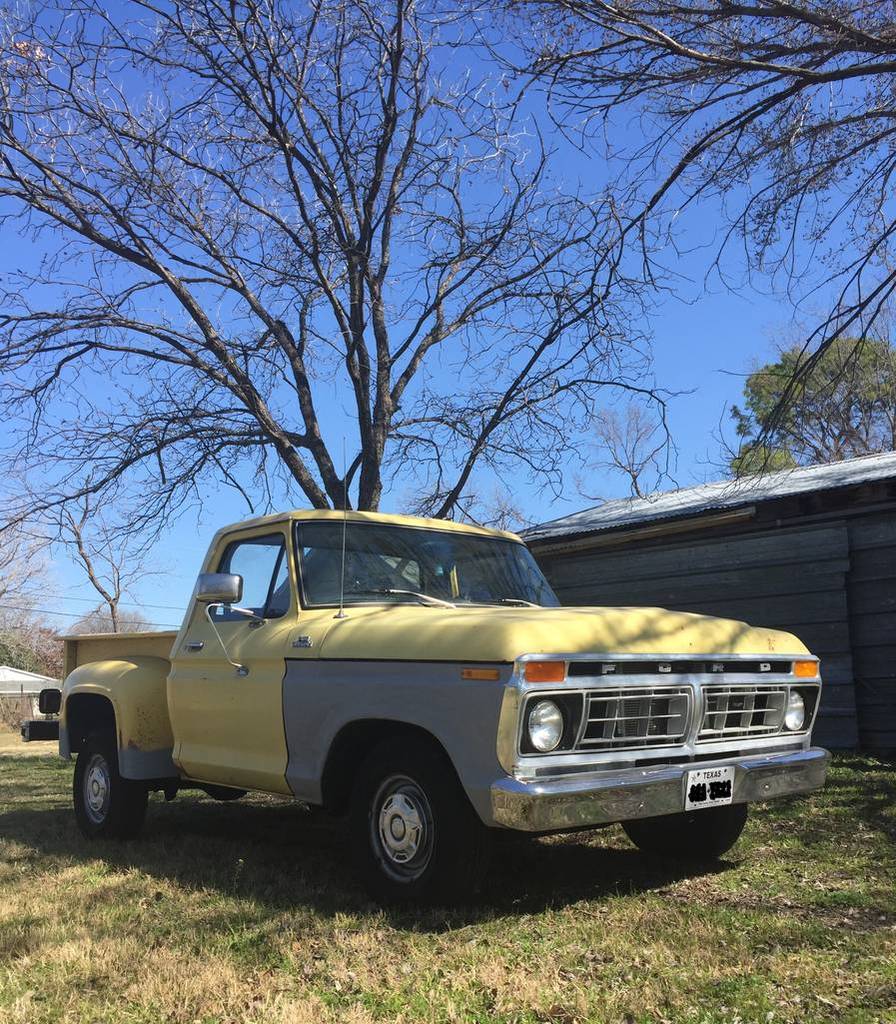 /


March 2016 Truck of the Month

The March 2016 TOTM belongs to Jasperrc

From Russel:



"Lucy" as she is affectionately known in our house is my daughters '77 F100 Custom flareside.
She was purchased new by a WWII Navy vet and after almost 30 years, handed down to his grandson. Somewhere along the line she ended up on the auction block where she was bought for $50 by my brother in law's dad because "the body is in such good shape". After his dad passed away, my brother-in-law gave it to my daughter who had seen a picture of it and thought it was cool.

Lucy was a basket case when we got her and has been a "discovery" project. We fix one thing and "discover" the next thing that needs to be addressed. She has also been a family project with three generations working on her at one time. We've learned how to do things we didn't know how to do before and we've busted knuckles, shed a little blood and whooped and hollered, sometimes all in the same day.

The goal with this project has been to keep it mostly original and low budget. She has the stock 302 and C4 combo. The original D44 was shot so we replaced it with a 9". The C4 has been rebuilt, and drive shaft lengthened. The steering linkages, fuel, and brake systems have been replaced entirely and leaf springs swapped out as well. We did a lot of work on the interior including floor pans, seat, headliner, door panels, seat belts, and cleanup on the dash pad, and instrument panel. We added a stereo, AC(a must-have in Texas), replaced the PS pump and lines, and cleaned up a lot of electrical problems. We replaced the rear bumper, added door mirrors, and have started doing the body work with the goal of going back with the original light yellow paint.

It took us way too long making the drive out to my folks place to work an occasional Saturday to get her road worthy, but for the last year and a half she has been my daughters daily driver and a lot of fun to have around town.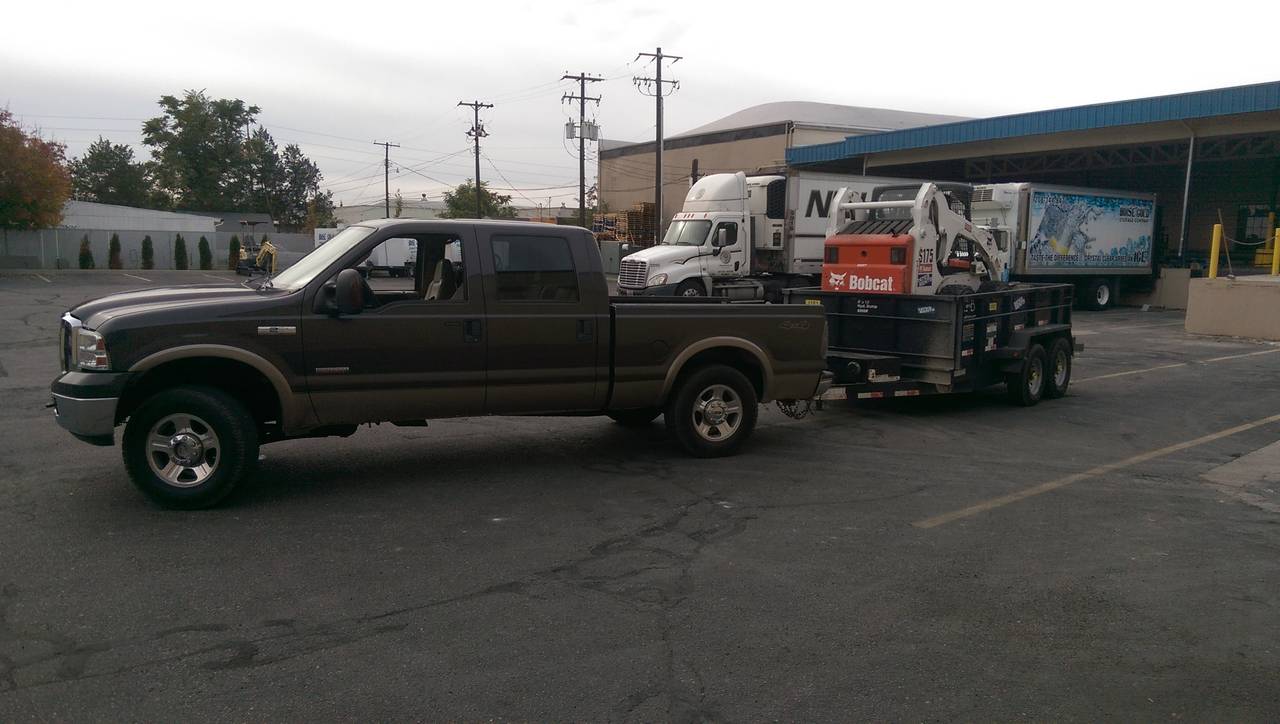 /


April 2016 Truck of the Month

The April 2016 TOTM belongs to 1970Custom

From Eric:

Needed something more work and family friendly so I bought me an '05 Super Duty 6.0.

Only upgrades are muffler delete, Riff Raff intake boots with the earlier '03-'04 steel CAC tube, and vent visors. Have a coolant filter that needs installed. It's got it's bumps and bruises but it's a pickup not a show queen.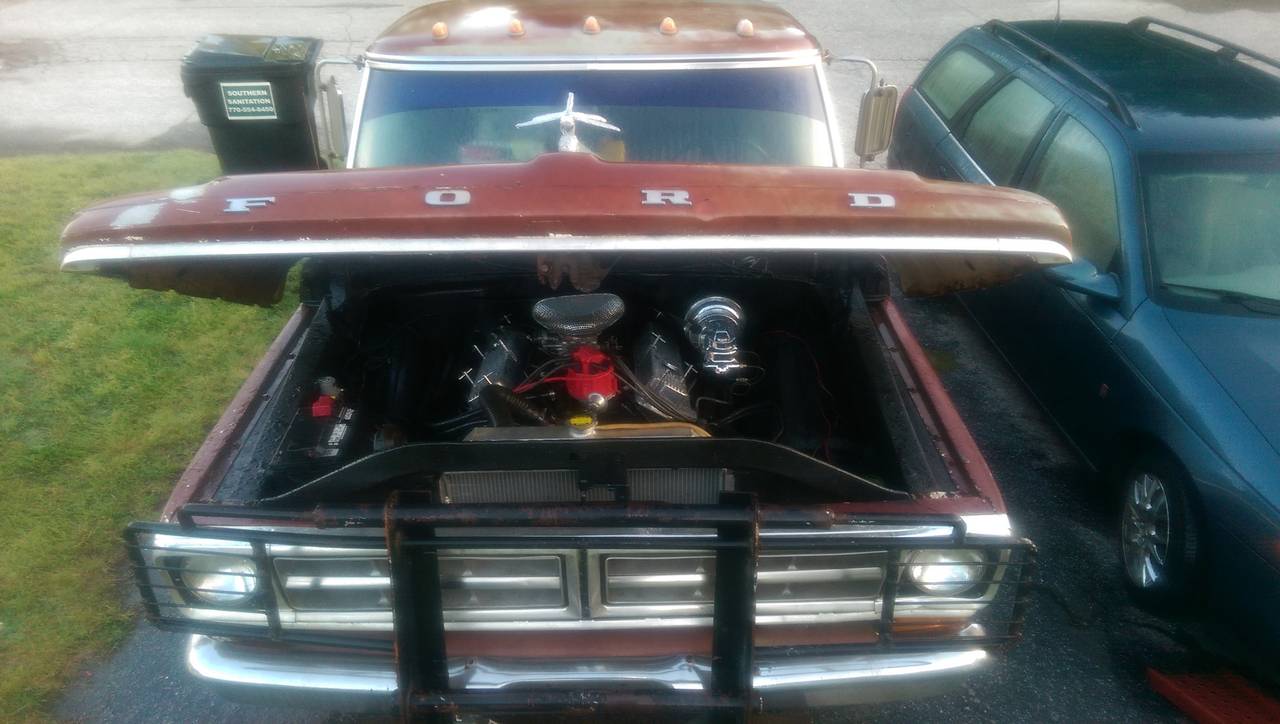 /


May 2016 Truck of the Month

The May 2016 TOTM belongs to Dalton Sexton

From Dalton:


In 1970, My mom purchased a 68 Ford F100 Long Wheel Base 2wd for my dad, Dalton Sexton Sr. The first thing he did was to change the drive train. He installed a 428 ci engine and installed a Borg Warner T18 transmission. Because he still had the 3 on the tree steering column, plus the big stick coming out of the floor, He had been asked before by a friend not so auto savvy, "Wow! you have TWO transmissions in this thing?!". Dad also replaced the rear gears with those from a 68 Galaxie. according to family that were along for the ride, Dad once chased down a Chevelle like it was standing still with this setup. He had to keep a chain wrapped around the driver's side motor mount to keep from breaking any more. In those days, people still used CB radios like telephones and a couple of times the local police chased a perp down by the river and get stuck. They would radio Dad and he would come pull them out with the truck. I was born in 1973. My mom worked long hours and had a long commute so I was always with Dad and he was always on the road. I literally can say that I grew up in that truck. One of my earliest memories was laying across that bench seat with my head in his lap, staring at the white dotted headliner. If you stare at it long enough, the dots would double and look weird. I know now that it meant I was falling asleep and my eyes were crossing.

Dad was wild with a touch of crazy and the truck was commonly how that was expressed. There was an Intersection where river road met with the main road on an extreme lowercase y angle. River road was a steep climb to the main road. Rather than take the hard right turn, Dad would cut across the ditch and climb the 12' almost vertical hill. It started a trend with the local teenagers and 10 years later, after many stuck and damaged failed attempts, The county dumped scrap asphalt in the ditch to stop the climbing. I remember when I was about 5 years old, My Dad let me "drive" while sitting in his lap. Unbeknownst to me, He was controlling the wheel under me. We veered off across a field, plowing over sapling pines like they were grass. Dad was laughing like mad but I was sweating bullets. I miss the days when we could ride in the back. I learned the hard way that you don't stand in the bed of the truck though. I looked over the top of the cab and caught a bumblebee in the forehead at 50! I think I backflipped back to the tailgate! Needless to say, Dad was regularly replacing grill and body parts because he was so rough. We jokingly call it the Johnny Cash truck for that reason. It has parts from every year in the series. The blood sweat and tears of Shubert, Hudson, and Sexton alike have gone into the survival and legacy of this truck. It is now tagged as a 72 because Dad dropped the cab on Scott Hudson's 72 donor body and replaced the door with the help of Joe Shubert.

When I was 20 years old, Dad told me that the truck would be mine one day. Every once in a while, I would ask Dad, "When can I get my truck?". "You ain't ready yet" he would say. This went on for ten years. One day at the age of 30, we were sitting on the back porch and I was staring at the truck. I mumbled to myself, "Man, I'll never sell that truck". "What did you say boy?" asked Dad. I looked at him and said matter of factly "I'll never sell that truck". As I turned my head back to the truck again, I heard a loud jingling and it was rapidly getting louder. I looked back just in time to catch the keys just before they hit me in the head. "I've waited ten years to hear you say that!" he laughed. I about fell on the floor. The first thing we did was to replace the brakes and the rear end gears. Sadly, The galaxie rear end had worn to razor blades. We put in a 3.25 gear set. Dad slung a rod in the 428 years ago, so I am currently searching for another. I would love to find a police interceptor. I had to park the truck for years because I became unable to stay awake and deemed myself unsafe to drive. I had just been laid off so I had no insurance. It took me 4 years to get diagnosed and another 2 to be able to afford to get the truck in running condition again. You let one sit for that long and expect to replace everything! I have converted it to HEI electronic ignition and have been slowly restoring the entire truck to a like new state from my art custom made item sales. I created the dragonfly hood ornament and will be ordering a custom shift knob in the near future from epcoshiftknobs.com. Eight months ago, the engine compartment would have made you cringe. Today I am proud to lift the hood. It tickles me every time I pop the hood and see someone's reaction the first time. It is truly currently a "sleeper", as in more under the hood than would be expected.

My dad passed away in 2006, but every time I am in and around that truck, I feel like he is right there with me. Four generations have been able to ride in Dad's "Ol' Blue". I plan to continue the tradition of passing the truck on as an heirloom. I will be installing a plaque on the inside of the glove box door with my Dad's name, Then mine, and when I pass it on, The recipient will be next. The plaque will be big enough for many generations to come and I pray this tradition is kept.

Dalton Sexton








/


June 2016 Truck of the Month

The June 2016 TOTM belongs to cbaker65

From cb:



I acquired this pickup one day out on a whim!

I was at work an my wife called me an said that she
was looking in the paper an noticed a guy selling 2
old trucks and the weekly paper just came out.
An asked if I wanted to go look at them.

I was shocked!...I said yea.
So we went an looked at them ,the guy only wanted
$350.00 for them that he needed to get rid of them
because he was moving.

So my wife asked me which one I wanted ,an I said
this one ,an she said Happy B-day!

I about fell over backwards!

The truck ran ,I drove it home ,well ,took it to my
daughters house to store it.
It sat for a little over a year until my daughters
boy friend came back an was eye balling it an wouldn't stop asking me if I wanted to sale it to him.

So finally I got tired of it an brought it down to my house ,an it sat for acouple more years ,so I just
checked it out ,changed the oil & tune up ,an started
driving it alittle ,like to the dump or to takes stuff
here an there.Drove like that for a couple of years ,
more like 3 or 4 .
Then I thought to myself that this truck has been running all this time with out issues an it was a gift
from my wife ,maybe its time to do something with it ,an make it more descent looking ,an to show my
wife how much that I do appreciate it.

I absolutely appreciate her for buying it for me!
I'm definitely in love with my 68 bump an enjoy
driving it!...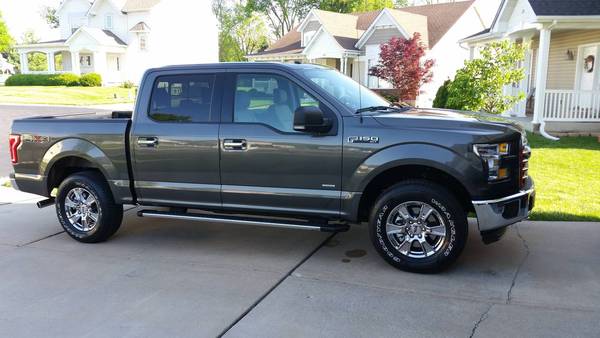 /


July 2016 Truck of the Month

The July 2016 TOTM belongs to slmann

From Scott:

We happened to be at the dealer and my wife said there was a Focus she wanted to look at. We looked at that car and a few others but didn't find anything that she really liked so she said to go look at trucks. At the end of the day we were driving home our new 2016 F-150 XLT 4x4. Loving this truck more and more each day. Honored to be chosen as FTF Truck Of The Month.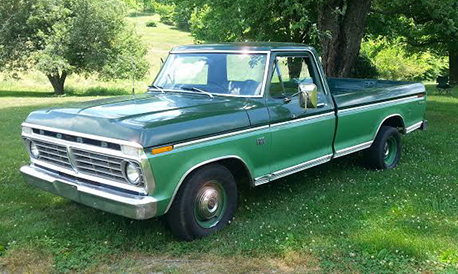 /


August 2016 Truck of the Month

The August 2016 TOTM belongs to moveoverGM

From Donald:

My late wife died of breast cancer on February 12, 2012. It was a two year fight but we gave it everything we could give. During that time we lost almost everything we had including a 1964 Ford Fairlane. Sometimes life just goes that way. But I knew that when things got better and the time was right I wanted to try to get another classic car. But I thought why not a truck. I can actually use that! So I found this 1973 F100 in a small Tennessee town of Newcomb. It was love at first sight. Nearly original, it is a sheer pleasure to drive and gets a lot of attention. And because I am Irish, I love green!!
I am honored to have my truck chosen for August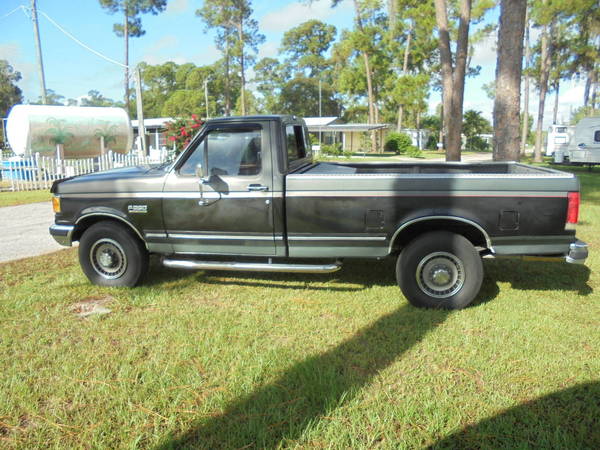 /


September 2016 Truck of the Month

The September 2016 TOTM belongs to
miranda

From Jerry:

My prized old truck is 1990 F250 which I bought from a neighbor (original owner) with almost 130,000 miles and going strong. She loves to work.

This truck was ordered with a 460 gas engine, 5 on the floor and crank windows. It is two-tone, gray top and bottom, black in middle. Has long bed and aluminum tool box. It is 4 X 2 and has towed a 5th wheel trailer weighing 15,000 pounds.

Old school for sure. Having grown up loving the sound of dual exhausts of V-8's, I have Flowmasters and these make this old truck very special to me.

We will use this gas thirsty Ford to tow a Hi-Lo camping trailer (4000 pounds) to Florida State Parks. We are currently in the process of restoring 20 year old Hi-Lo.

Got to admit, at 75 years old, I haven't had much truck experience but absolutely love this 26 year old F250. I love to restore and over the years have done 25 motorcycles and a few cars, but never a truck.

We're gonna enjoy this old Ford truck for sure.

Jerry
Winter Haven, Florida
Ohio native with NH wife ( a real combination)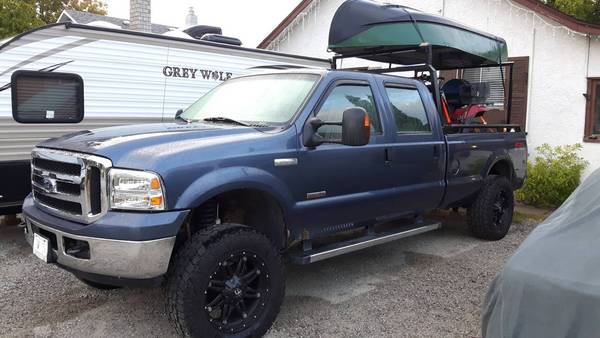 /



October 2016 Truck of the Month

The October 2016 TOTM belongs to plumberrob


From Rob:

This is my 2006 Crew Cab Long Box Beast... never owning a diesel before I was nervous to say the least but I am so happy with the truck now after learning a few things.
She pulls hard and hauls all the toys and the straight exhaust makes her sound like a jet airplane.. love it! haha
Gave her new headlight lenses and a new grille... Oh and new tires that are so nice quiet on the highway!
Hope she stays with us for many years to come!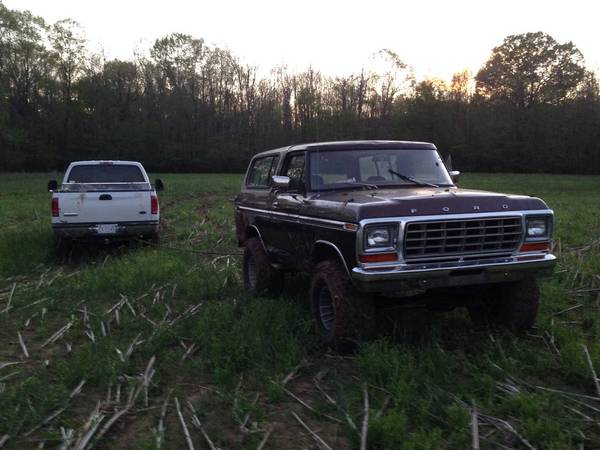 /



November 2016 Truck of the Month

The November 2016 TOTM belongs to UTftball68


From Ben:

I'm honored to have my 79 Bronco selected as the TOTM. I purchased this rig 10 years ago, in college from the original owner, who was a local Ford parts counter guy. This vehicle has taught me a lot over the years and has been my primary test subject. It went through a very 80's restoration with the PO, complete with gold crushed velvet interior and gold anodized bright work inside and out. Over the years, I've replaced or dyed the interior pieces to something more tame, and replaced all the trim. It has seen several different engine and suspension set ups, and is currently under the knife again for my ultimate 'point it anywhere and go' machine. I have a 'crown jewel' 1970 460 coming off the dyno in a couple weeks from Left Eye Blind Racing, with a roller C6 to bolt behind it. I just snagged a set of 2006 Super Duty tons to go underneath as well. I'm also working with Left Eye Blind on some proprietary 'top secret' fenders/quarters to keep a low COG while maintaining great flex on a 40" tire. I suppose the saying is true, projects are never done, they just change direction.

» Tower Advertisement

src="http://pagead2.googlesyndication.com/pagead/show_ads.js">

» Vote now
Vote For FTF
» a1autotransport.com
» Parts Geek