Here's my issue with carb spacers, unless you need the extra volume because you have the power to require it...carb spacers 'fixing' heat issues are on the same level as steering stabilizers 'fixing' death wobble. They don't actually fix anything, they just Band-Aid the actual problem. Hot start issues are most commonly a results of 1) timing too far advanced and/or 2) the starter getting heat soaked.
__________________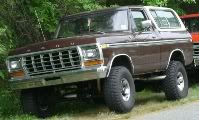 '77 250 400 Boggers (show)__'96 350 CC 460 SSR's (work)__'79 Bronco 400 35's (play)
Quote:
Inspired by Ian
We live in a society that keeps finding answers to problems people never knew they had.
I bow my head to Jesus, stand for my family, love only one woman, and am always proud of what I have.
Standing by my gun and Bible since 1986.
Ben