Any time I flew in to LAX I'd get the least sexy vehicles available. Anywhere else in the country, I'm getting Lincolns, Suburbans, a Mercedes or two...but not LAX. I ended up with more than one transit utility van when I showed up. No windows either, rape van to the max. 2nd or third time, folks at my office decided it would be hilarious to put a magnetic 'Free Candy' sign with my face on it on the passenger side door, where I'd never see it. Never had any complaints about the transit, outside of it being worse than a minivan.
__________________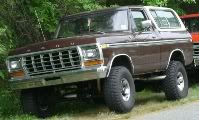 '77 250 400 Boggers (show)__'96 350 CC 460 SSR's (work)__'79 Bronco 400 35's (play)
Quote:
Inspired by Ian
We live in a society that keeps finding answers to problems people never knew they had.
I bow my head to Jesus, stand for my family, love only one woman, and am always proud of what I have.
Standing by my gun and Bible since 1986.
Ben