LEB Super Duty Spring swap kit for 67-79 F250/350
---
This kit allows you to use super duty leaf springs in the front of your 67-79 F250/F350. Stock superduty springs give approximately 2" of lift on the 67-79 models. An advertised 2" lift spring would give 4" on the older truck, 4" would give 6", etc. Comes with necessary shackles and hardware. Springs not included.
https://left-eye-blind-racing-and-fa...pring-swap-kit
__________________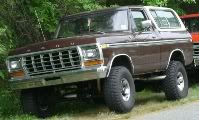 '77 250 400 Boggers (show)__'96 350 CC 460 SSR's (work)__'79 Bronco 400 35's (play)
Quote:
Inspired by Ian
We live in a society that keeps finding answers to problems people never knew they had.
I bow my head to Jesus, stand for my family, love only one woman, and am always proud of what I have.
Standing by my gun and Bible since 1986.
Ben