Anyone wanting to swap in a super cooling radiator may be instructed to get upper hose 7799 (NAPA PN, cross reference PN's for other stores) to fit properly. Well that hose is $32. However, you can also get hose 7757 (NAPA PN), you will need to fine trim both ends a little, but this hose is $15...$17 in your pocket to buy that antifreeze you'll need.
__________________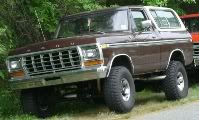 '77 250 400 Boggers (show)__'96 350 CC 460 SSR's (work)__'79 Bronco 400 35's (play)
Quote:
Inspired by Ian
We live in a society that keeps finding answers to problems people never knew they had.
I bow my head to Jesus, stand for my family, love only one woman, and am always proud of what I have.
Standing by my gun and Bible since 1986.
Ben