Trying to get a NC chapter together
---
Hello there guys and gals. I'm just trying to get enough members to get a North Carolina chapter started. I saw Cliff already asked for any other NC members, but got a dismal response. So here's one more chance so we can get a chapter. If you're interested, post your interest in this thread. I believe we only need 3-4 other members to get the go ahead. So lets get this started.
__________________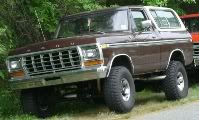 '77 250 400 Boggers (show)__'96 350 CC 460 SSR's (work)__'79 Bronco 400 35's (play)
Quote:
Inspired by Ian
We live in a society that keeps finding answers to problems people never knew they had.
I bow my head to Jesus, stand for my family, love only one woman, and am always proud of what I have.
Standing by my gun and Bible since 1986.
Ben