Check in post...I like supporting local as much as possible, so I've been using Defender Ammunition (3hrs east) and Minuteman Munitions (45mins north) for quite some time for plinking ammo. I've been doing a lot of shooting lately, probably 10,000 rounds in the last 2 months. With all the craziness going on, doesn't make it easy to replenish inventory. Anyway...got a text from the wife yesterday and a pic from our vault room saying 'I think you have enough'. What's the over/under I'm still married when I get home...I have a half pallet from Defender and a half pallet from Minuteman that should be delivering today.
__________________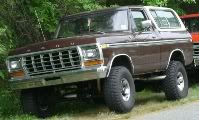 '77 250 400 Boggers (show)__'96 350 CC 460 SSR's (work)__'79 Bronco 400 35's (play)
Quote:
Inspired by Ian
We live in a society that keeps finding answers to problems people never knew they had.
I bow my head to Jesus, stand for my family, love only one woman, and am always proud of what I have.
Standing by my gun and Bible since 1986.
Ben